Parts List:
From Palm Beach Bots:
1x 6" Terminator Asymmetrical Titanium Blade: $29.99  52g  Purchase Here
1x Fingertech Blade Mount with screw upgrade: $9.19  6.2g Purchase Here
1x BL-Heli 20A Brushless Speed Controller:  $12.99  10.8g Purchase Here
1x D2822 Brushless Outrunner 1800kv:  $12.89  41g Purchase Here
2x FT "Silver Spark" 16mm Gearmotor 22:1: $37.38  58g Purchase Here
2x Fingertech TinyESC:  $53.38  7.4g Purchase Here
2x Power LED: $3.98  2.7g Purchase Here
1x Palm Power 3s 450mAh 45c lipo battery: $15.29  26g Purchase Here
1x Fingertech Foam Wheels 0.75" x 3.00": $5.15  9.4g Purchase Here
1x Fingertech Twist Hubs Wide 0.75" x 6mm: $18.99  7.1g Purchase Here
1x Fingertech Mini Power Switch: $7.63  2.15g Purchase Here
1x JST Connector (Female) $0.49  1.7g Purchase Here
From Amazon:
1x Package M3 x 10mm coarse thread screws: $8.49 Purchase Here
1x Package M2.5 x 8mm coarse thread screws: $9.49 Purchase Here
1x Package 2-56 x 1/8  screws: $13.78 Purchase Here
Purchased Parts Estimated Cost: $239.11
Manufactured Parts Estimated Cost: 41.31
Total Estimated Cost: $280.42
Optional Components (Recommended for new builders)
1x B3 Pro Compact Balance Charger 2s/3s: $9.99 Purchase Here
1x LiPO battery bag: $5.49 Purchase Here
1x Flysky FS-i6 2.4 GHz 6 Channel Transmitter: $57.99 Purchase Here
1x Fingertech TinyMixer: $14.99  3g Purchase Here
1x Weapon safety clamp:  $4.99 Purchase Here
1x Blue Loctite bottle: $7.87 Purchase Here
1x Latex paint bottle (For wheel traction): $12.99 Purchase Here
1x Spare 18AWG wire: $13.98 Purchase Here
Frame and Armor files:
Build Instructions

Required Tools
Hex key set
Fingertech Twist Hub Key or a pair of Plyers
Velcro or tape
Hot Glue Gun
Soldering Iron
Acquiring Parts
The first step to building a robot is ordering all of the parts. For this Vortex kit, nearly everything can be purchased from Palm Beach Bots.
The top plate and weapon motor mount will need to be laser cut by a service such as SendCutSend. Materials such as titanium or carbon fiber with a thickness of .040" (1mm) are recommended.
The frame and side plates will need to be 3D printed. This can be done from a variety of materials, but nylon is recommended for its durability. There are plenty of 3D printing service options available online, including Just Cuz Robotics.
Mechanical Assembly
Step 1:
Ensure mounting holes in the frame and side plate 3D prints are clear of debris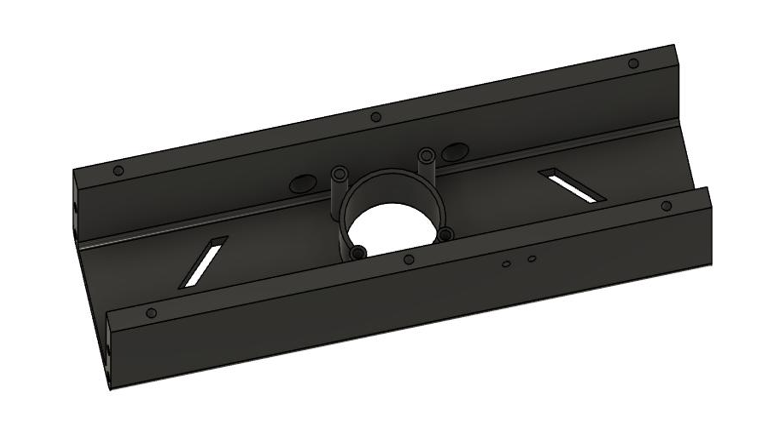 Step2:
Attach a Fingertech Silver Spark motor to left plate with 2x 2-56 x 1/8 screws, using Loctite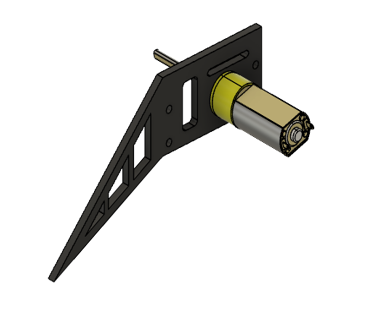 Step 3:
Repeat step 2 for the right side by facing motor the other direction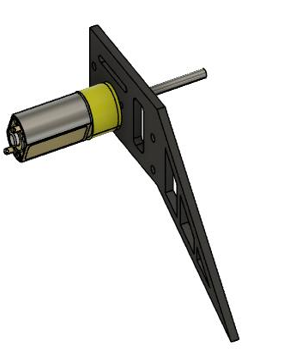 Step 4:
Attach the side plate assemblies to the frame using 8x M3 screws.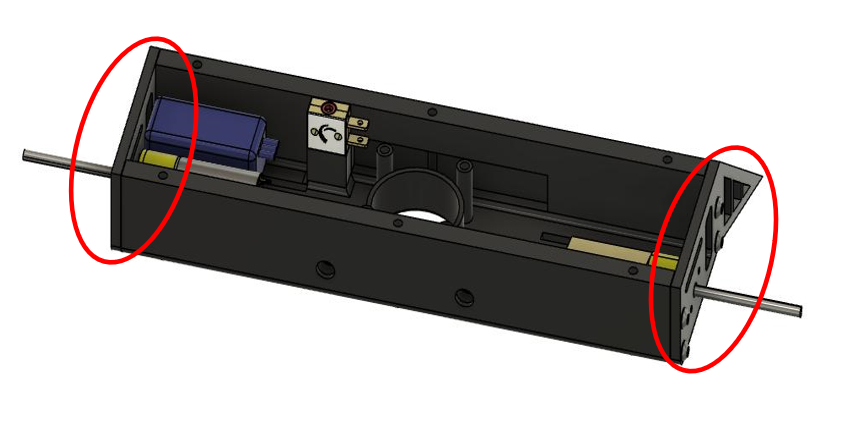 Step 5:
Then attach the  power switch to the frame with 2x M2.5 screws.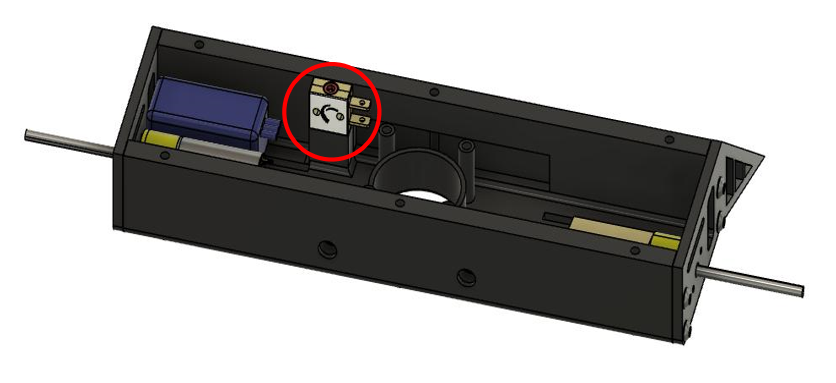 Step 6:
Slide battery into place as per the image bellow.  Secure it using Velcro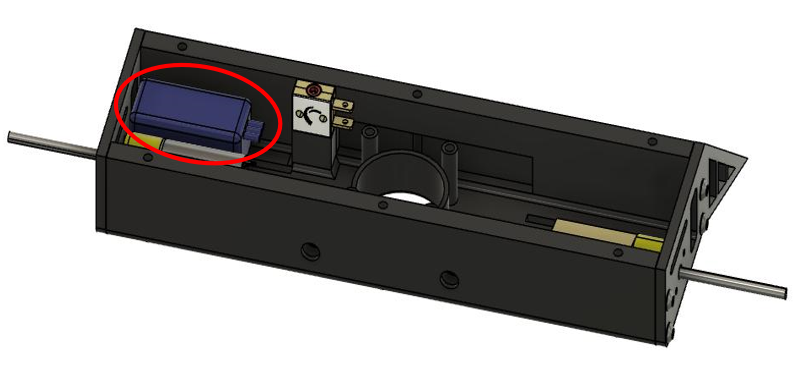 Step 7:
Begin weapon assembly by attaching the blade mount to the D2822 brushless motor with 4x 6-32 screws included with the mount. Use Loctite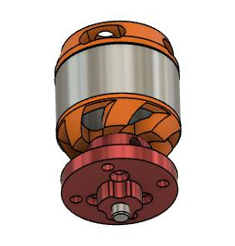 Step 8:
Attach weapon blade to the blade mount and secure it with 4x 6-32 screws included with hub. Use loctite.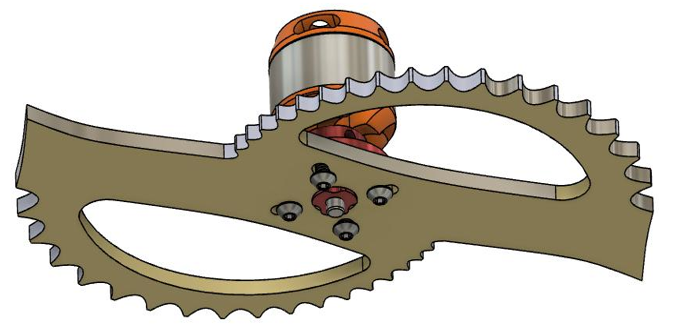 Step 9:
Attach the weapon motor mount to the frame and secure with 4x M3 screws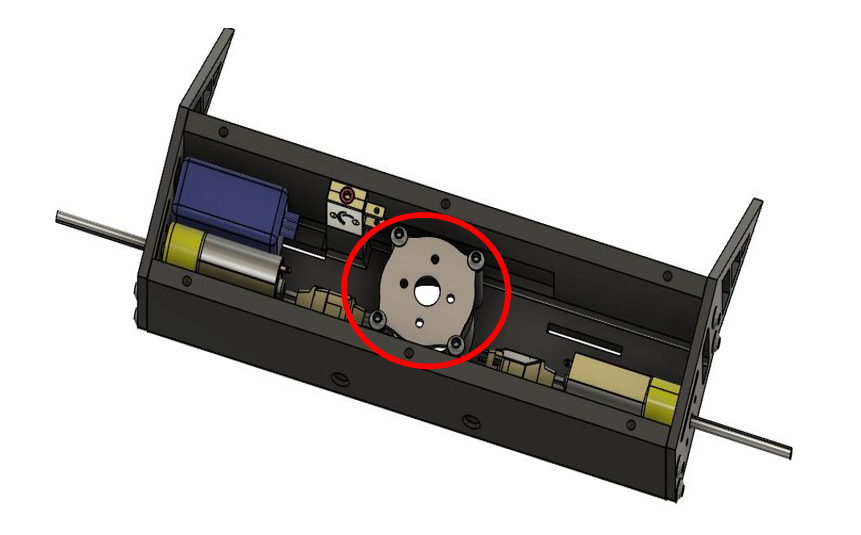 Step 10:
Attach the weapon assembly to the motor mount and secure with 4x M3 screws included with the motor using Loctite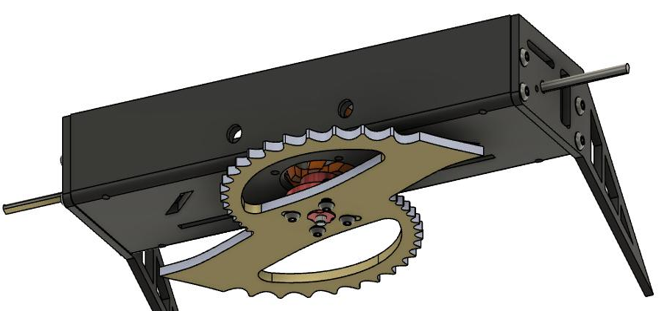 Step 11:
Insert remaining electronics into the frame and secure them with Velcro or tape as shown.  Attach power LEDs into holes in frame and secure with hot glue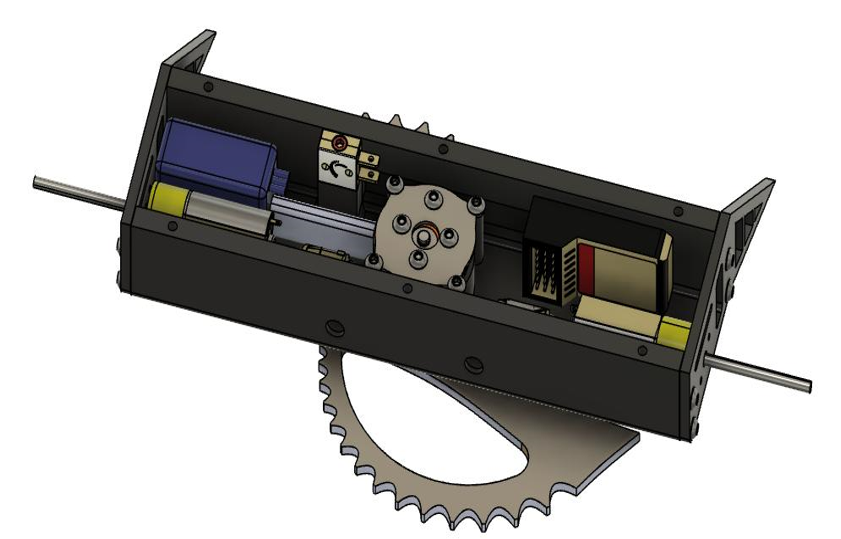 Step 12:
Attach top plate and secure with 6x M3 screws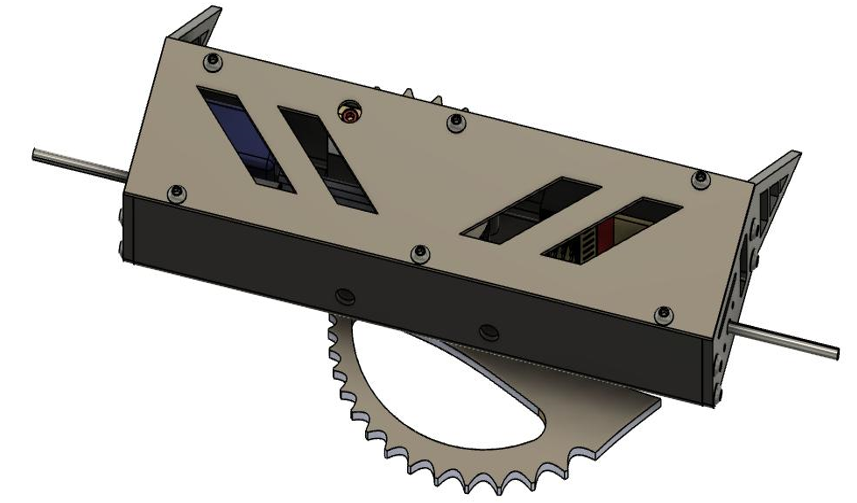 Step 13:
Attach the wheel hubs to the Silver Spark motors.
Step 14:
Press the foam wheels onto the wheel hubs. Then secure the wheels by twisting on the locking washers using either a Fingertech twist hub key or a pair of plyers.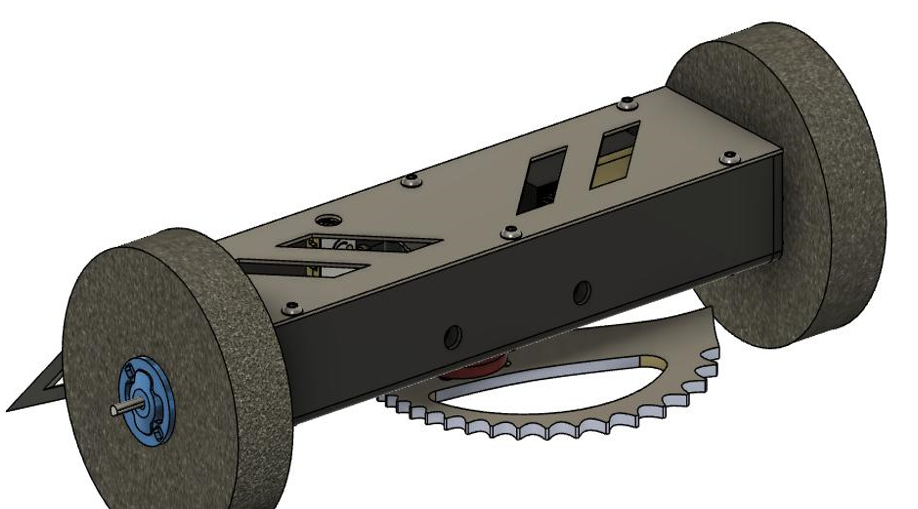 Step 15:
Put on the weapon lock BEFORE plugging anything in!!!!!
Electrical Assembly
Wiring Diagram: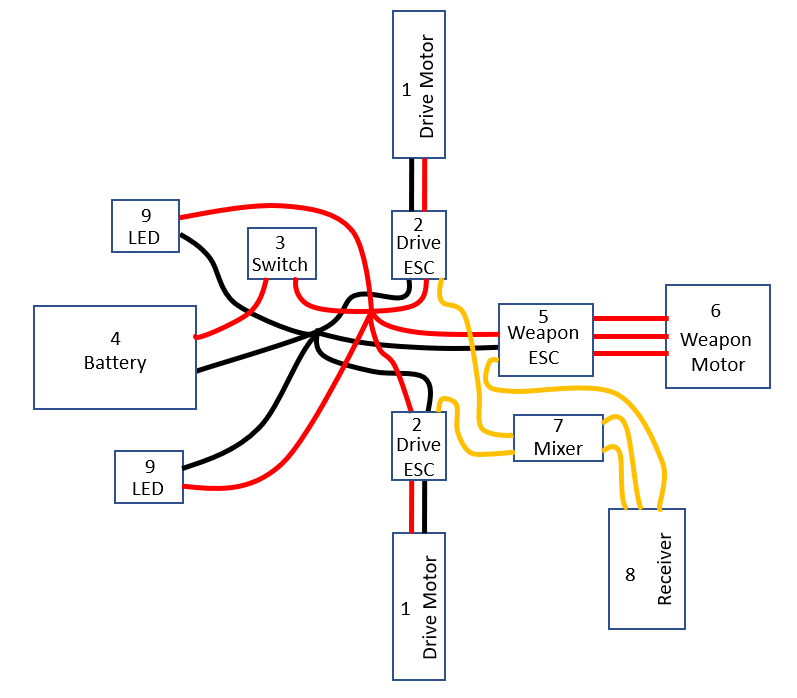 Key:
1 - Drive motors
2 - Drive ESC
3 - Power switch
4 - Battery
5 - Weapon ESC
6 - Weapon motor
7 - Tiny mixer (if used)
8 - Receiver
9 - Power LED

Step 1.
Begin by soldering the female JST plug's positive side to one prong on the power switch, then solder a length of spare wire to the other prong.
Step 2.
Solder the ground wire from both Tiny ESC's, the BL-heli ESC, and the Power LEDs to the ground side on the JST plug.
Step 3.
Do the same as in the last step but with the positive wires to the spare wire on the power switch.
Step 4.
Solder the brown wire from one Tiny ESC to the ground side tab on one drive motor (the ground side will be the one without a dot next to it), then solder the red wire to the positive side tab on the motor.
Step 5.
Solder the other Tiny ESC's brown wire to the other drive motor's positive side tab and the red wire to the ground side tab (this is opposite of last time so the motors spin in opposite directions).
Step 6.
Solder the three weapon motor wires to the three solder pads on the BL-heli weapon ESC.
Step 7.
Plug the signal wire from the weapon ESC into channel 3 on the receiver, one drive motor signal wire into channel 1, and the other into channel 2. Turn on elevon mixing. (if you have the tiny mixer follow instructions that came with it for the drive)
Step 8.
Plug the JST connector into the battery
That's it!! To turn the robot on tighten the set screw on the power switch. When it turns on the LEDs will look like eye's!!!!(note: never do this outside of a test box without the weapon blade taken off!)
Vortex Combat Robot Battle Tips

These tips will get your combat robot (and you!) ready for battle. They include everything from a list of spare parts you should have on hand to driving tips.
Spare parts to add to your order:
6x foam wheels
1x drive motors
1x weapon motor
2x wheel hubs
1x weapon hubs
1x tiny ESC
1x weapon ESC
1x batteries
1x receiver
1x top plate
3x side plates
Of course having two or three complete robots is always better, but most of us can't afford that ;).

What to Expect from Your First Event

These videos by Seth Schafer and Andrea Gellatly will show you everything you can expect from your first combat robotics tournament
Combat Robot Pit Essentials: https://www.youtube.com/watch?v=Rhf44Y3uw_4 Preparing For Your First Event: https://www.youtube.com/watch?v=zQxmnL86l6Q
Your First Event: https://www.youtube.com/watch?v=ztJKm1Sj3ck
(Tip: if you have time to watch the whole witchdoctor series it helps!!)
Tools to Bring
ALL the tools used to build your bot - everything from drills to loctite
Electrical Tape - For connections that need fixing and holding parts together
Dremel - A great tool for cleaning up frames and weapon blades. Also useful for removing broken screws and cutting off motor shafts
Block of wood - to set your robot on in the pits. Make sure it's large enough to keep the robot's wheels off the ground
Toolbox - For putting tools in, obviously
Driving Practice
Ok now let's talk about driving, first PRACTICE A LOT!!!! as much as you can, and don't just drive in circles! do things like unplug a motor, flip it upside down, and push things around.
Final Tips
This page is filled with useful preparations you will want to make to your robot for a better performance:
https://www.battlerobotkit.com/prepareforbattle
If you have any questions ask aaron;) at this website:
http://runamok.tech/AskAaron.html
Ok, that's pretty much all I have to say. Thanks for reading, and remember you will learn more at your first event than I could ever write here. Win or lose, have fun!!!
WARNING!
Combat robots are not toys and should always be treated with respect.
Always use a weapon lock and test in an adequate test box.
Now go kill some bots!!
Have fun!!

Design by Lane Morschel of Team No Experience Required Robotics